The year 2010 is behind and with the New Year, I am re evaluating some goals and making new ones for 2011.
1) Every year I set out with the goal of losing weight, but after re-injuring my foot, my plans for a fitness program are on hold. I am hoping to establish and start a program in the first two weeks of the new year.
2) This Year Browncoat and I plan to sell handmade items at various local craft fairs. In addition I have an
Etsy Store
to sell my handknit items. I would like to spend time growing my inventory with diverse items and work toward doubling my sales in the holiday season.
3) A goal I am really excited about is to read more...and not just fan fiction. I read a ton of fan fiction on a daily basis, but I cannot tell you the last time I read an actual published novel. As a challenge to myself, I plan to read all published works by Jane Austen in 2011 on my Nook, as part of the 2011 E-book Reading Challenge.
I am joining the challenge on the "Fascinated" level, which means that I intend to read 6 books using my E-book Reader in 2011. I could definitely read more that 6 books in one year, but I will be a bit slower reading Jane Austen's books, since they take place in a different time in history and are written using language that is not familiar to me. To join the 2011 E-book Reading Challenge, click
here
.
Here is my reading list for the 2011 E-book Reading Challenge (in order I intend to read them):
1) Sense and Sensibility
2) Pride and Prejudice
3) Emma
4) Persuasion
5) Northanger Abbey
6) Mansfield Park
In collaboration with the above reading challenge, I am also joining this challenge: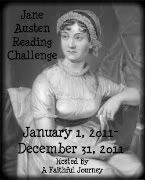 Browncoat and I are going to do this together. I think we will probably watch the movies that are out there that go with the books as we finish them. That sounds like fun.