Early in my knitting career, I went into a yarn shop looking for a project. I walked out with a pattern for the FiberTrends Felted Hats, 2 or 3 hanks of Cascade Pastaza, and a brand new set of bamboo circulars and dpns'. I took it home and began. I was a happy knitter. Full of felting promise. Until it happened. I was working merrily along knitting in the round when it came time to switch to dpn's. This was my first experience with these needles and I dropped stitches off the ends. I was also so new that I had no idea how to pick up these poor dropped stitches. After fretting much and finally figuring it out, I had all my stitches back on the needles, twisted though they may be. I continued knitting for a few more rounds when I figured out that I had been knitting from the top of the hat, basically knitting inside out. Frustrated with the whole thing, I frogged it and put the yarn away for a while.
Fast Forward to this past weekend and I was able to complete the hat without dropping stitches off the needles or knitting inside out.
I was able to hire this semi-famous racoon* to model the hat for me: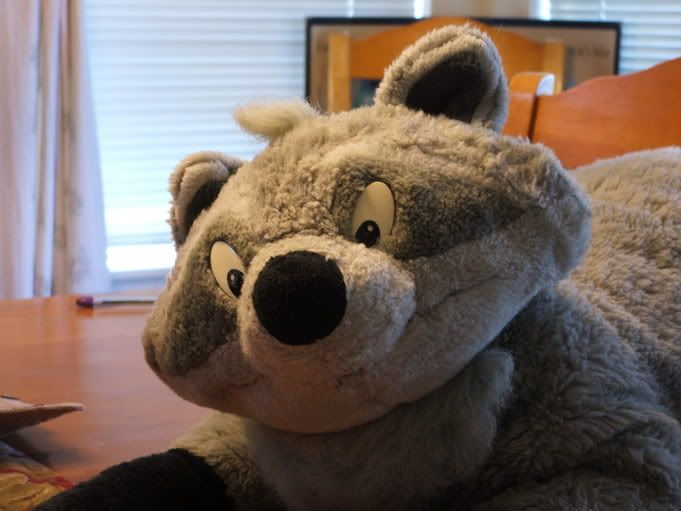 Here is a look at the hat in it's pre-felted state (doesn't the model resemble Paddington Bear with the hat on?):
And now for a look once it has been felted: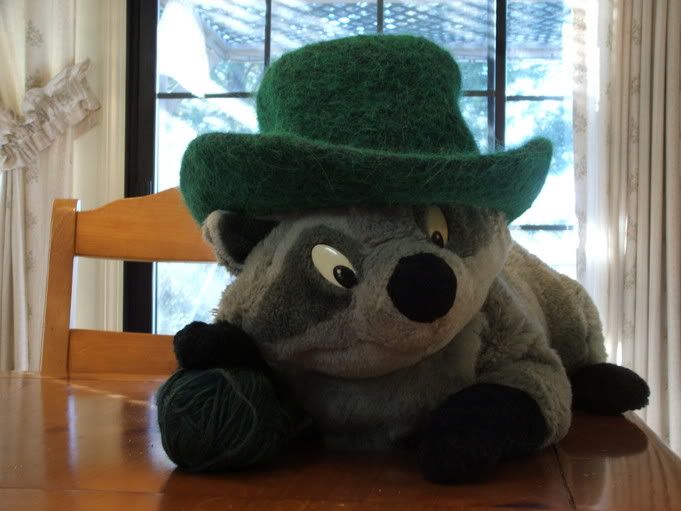 Here is a final look at the hat. Notice the leftover ball of yarn next to the hat. The colors are totally different after it was felted. I was baffled: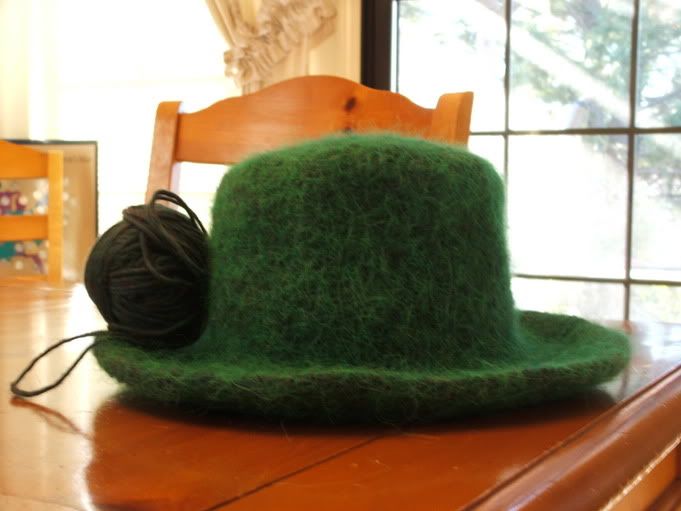 So here is some final information:
Pattern-FiberTrends Felt Hat with Brim Variations (I did the flat brim)AC-1
Yarn-Cascade Pastaza (I don't remeber the color and the tag is long gone)
Needles- Clover Bamboo size 11 circulars 29" & Clover Bamboo DPN's Size 10.5
I held two strands of the Pastaza together and it made for a heavy fabric and therefore a heavy hat. I am also not nuts about how hairy it turned out. I am doing this pattern again for a friend and I am going to use 2 strands of Cascade 220. I think it will be lighter and less hairy. Oh well, I may not wear it everyday, but I can tell you that no one will be pinching me on Saint Patrick's Day. And as my dear friend pointed out, I can always sell it on ebay!
*You may recognize Meeko from Disney's Pocahontas, but then again, maybe not. In our house he actually goes by Waschbar , which is Racoon in German.