Well, I know that there have been no posts for quite some time but I hope catch you up on what is going on in my life in the last couple months. First, and most importantly, I want to admit my utter failure in the knitting olympics. I was so excited about the challenge of completing something in the time alloted. To review, I had intened to complete the Jesse's Flame raglan sweater from SNB Nation. I am using the colors in the pattern-black, red, and yellow in Lionbrand Woolease. I think this project was a little ambitious for me in the short 16 days from the opening ceremonies to the closing ceremonies. This project includes intarsia on the sleeves, something I have never done before. I also ran into some problems with the needles having too much drag and slowing me down. In the end, I completed the front and 1/2 of the back and it is in my ongoing project stash to be completed slowly.
I did acheive some small success completing some projects during by absence. First of all, I made a Fibertrends Wide Brimmed Felted Hat using Cascade 220, for my friend Annette. It turned out very cute and she loves it. I had made the same hat using Cascade Pastaza and I now prefer the 220 better. It is much lighter weight and not nearly as scratchy. Here is the hat before I felted it: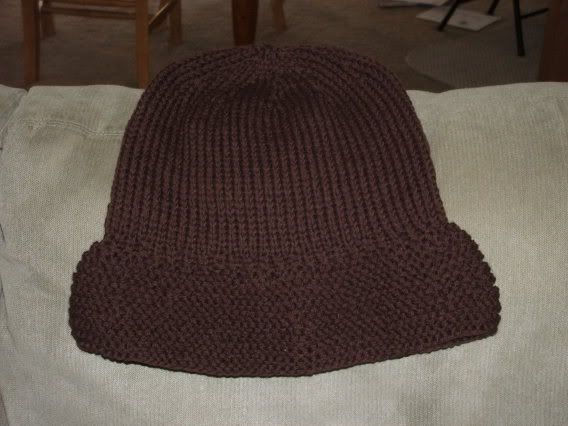 Here is a look at the hat after I felted it:
I also completed my second pair of socks. I will say that I am a very slow sock knitter and I don't knit them very regularly. These socks were knit from the toe up using 2 at once on one circular needles. I used Cool Wool from Lana Grossa.
I also made a Nantasket Basket, which I finally finished today. I will take pictures soon to show you what this gem looks like felted. I said "finally finished" because I had to take break from knitting for a couple weeks. I actually just picked up my needles today. I woke up with a swollen wrist a couple of weeks ago for no apparent reason, and after icing it for a day without much relief, I went to the doctor and was diagnosed with de Quervain's Desease, which is a form of tendinitis. So I had a fashionable black wrist brace that immobilized most of my wrist and hand. It really cramped my style.