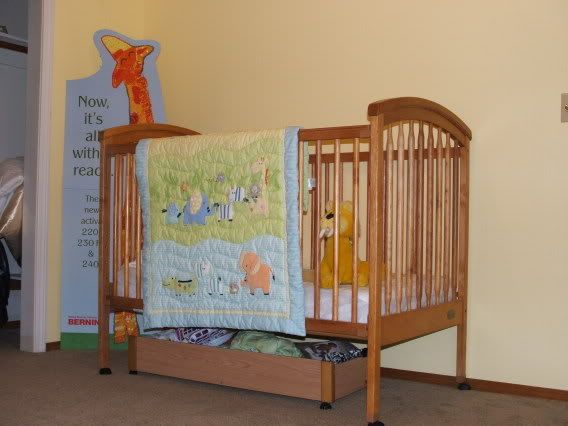 I know that this is a photo of a crib. An empty crib. I maybe should have chosen to put this photo under "A" for adoption, "B" for babies, or "C" for children, but this is my blog and I am putting under "D" for dreams.
If you would have asked me 11 years ago how many children I wanted, I would have told you a dozen, mostly because my mother wanted to have that many when she was young and I wanted to be like her. After a short stint working in a preschool full of 3 year olds, my number of children was amended to 2 or 3. But nature has had other ideas for me. My husband I wanted to be parents early on so we could enjoy our children and do things with them while we were still young. After a couple years without conceiving, we sought medical help, to find out that I will most likely never be able to bear children. After many years of trying to beat the odds and riding a emotional/physical roller coaster, we decided to get off and consider other options to fulfill our dream of building our family.
My husband and I are both adoptees. We had actually talked about adopting one child in the future regardless of whether we had children on our own. But adoption is expensive and the concept of open adoption made me uncomfortable. Still, We felt that we had a unique understanding of the adoption experience and with that we began the process of becoming Foster-Adopt Parents (adopting through the foster care system). This process included probing interviews and home studies not to mention over 80 hours in training. We completed our classes and received our licence last spring. It seemed that our dream was coming true at last.
On June 30th of 2005, we received a call wanting to place 2 children in our home. A 4 year old and a 2 year old. I treasure the memories I have from when these two lived in my home, but it was quickly apparent to me that I had bitten off more than I could chew taking 2 children at once. We had these kids for 2 weeks before they went to a new family. (These children were eventually returned to their parents) Still my dream of being a mommy was far from dead.
Everyone has told us that we would be getting a call for a new child soon, but as summer faded to fall, and fall gave way to winter, still we have had no calls. This is probably the most frustrating part of the whole process-waiting. I feel like my life is on hold, waiting to start my family and everyday that the crib goes empty is chipping away at the dream. I will say that I have not given up and I am still waiting anxiously for my dream to come true.