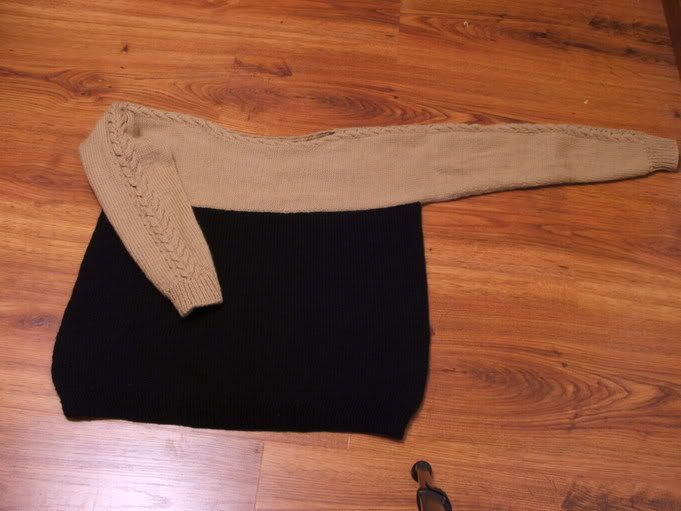 I did it! I really did it! I have completed my first sweater! And I am pleased with the results. As a review the pattern that I used is
Marina Pullover
and was knit using Wool of the Andes from Knitpicks. The colors that I used are Snickerdoodle and Coal (Just fancy names for Tan and Black). It was knit on size 7 straight and circular needles. It was knit with a cable going cuff to cuff and the cable split at the neck . I picked up stitches around the yoke and knit the bottom portion in the round. It fits loosely and the sleeves are a little long for me. The space where the stitches are picked up was sort of slouchy and looked horrible around the bust so I blocked that out (I said that so "nonchilantly" did't I? I was so frightened. This was my first time blocking). While I am not thrilled about having to roll up the cuffs, the added arm length means that my dh can wear it if he so chooses (God knows I borrow enough of his clothes)!
Here is a look at the cable on the sleeve and neck:
The Olympics are sneaking up on me. I had hoped to complete something in between Marina and the Knitting Olympics, but I have not picked up my needles lately in favor of my blog facelift. That's right folks, your eyes are not deceiving you. If you have been here before than you may have noticed my obvious departure from the typical Blogger template. I would be interested to hear your comments about the new look.
Oh, and Happy Belated Ground Hog's Day!