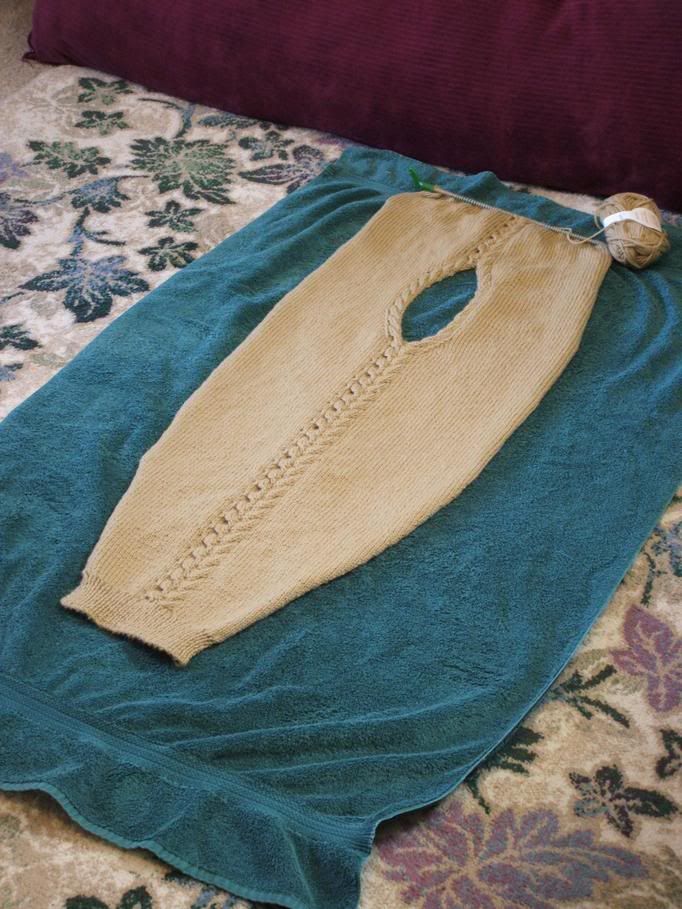 I wrote a few post back about my aversion to New Year's Resolutions. I did have some goals, however that I wanted to accomplish. The first goal is to knit my first sweater. I have been working on the Marina Pullover. I am very pleased with the progress. I have completed the left sleeve, the yoke/neck hole, and I am just about to begin the right sleeve. This would be a rather bland sweater, both to knit and to look at, if it weren't for the cable. I am really happy with the way that the cable splits to form the neck. I have only had minor problems thus far. I had increased too many stitches a couple of rows back and I wanted to frog back a couple rows. I found that to be more difficult with the cable as a factor and ended up frogging half the neck. All part of the learning process, I suppose.
I know I am crazy. It is healthy to admit it. I realize that I haven't even completed my first sweater. Rational thoughts should prevail. But they didn't and now I am an Olympian. Ok so maybe not in the true sense of the word, but I have decided to join the Knitting Olympics. What is this, you ask? Knitting Olympians select a project that would pose a challenge to them and knit it from start to finish during the 2006 Winter Olympics in February. That means that you cannot cast on until the opening ceremonies and you must be finished entirely by the time the flame is extinguished. For my challenge, I have appropriately decided to make "Jesse's Flame" Sweater from the Stitch N' Bitch Nation. For those that don't know what this sweater looks like, it is a man's raglan sweater with intarsia flame on the sleeves. We are allowed to do guage swatches before the games begin. I would really like to be finished with Marina before I begin this new challenge. If you are interested in joining the Knitting Olympics, go visit the
Yarn Harlot
.
As for my other goals
I also listed as a goal that I wanted to add new content to my blog. The proof is in the pudding. The fact that I am actually creating this post is evidence that I am on my way. Thanks to my friends that have left kind comments. I also wanted to have 5 people link to me from their site or blog. The progress on that front is that I joined the ABC Along Webring. I may not actually be on the ring yet, but I was assured by the ring owner that I would be added soon. I also will be listed soon on the Knitting Olympics Page with all of the other olympians. As long as I am mentioning it, If there is anyone that would like the link to me, I would appreciate it and would gladly recipricate with a link. My dh is working on a cute button for me. I will post that as soon as it is done.
There was one other goal that I said deserved it's own post. Rest assured that I have not forgotten about it. It is rather personal and I am just not in the right mood to write about it. I would rather knit.